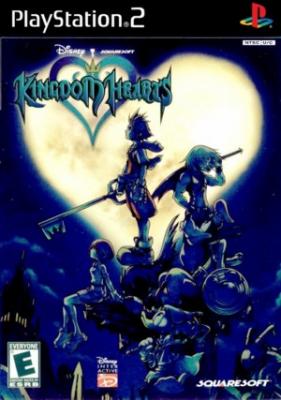 Titulo: Kingdom Hearts
Plataforma: PS2
Genero: Role-Playing
Kingdom Hearts, the first joint project between Square and Disney Interactive, is an action role-playing game for PlayStation 2 gamers that combines classic Disney characters and worlds with newly introduced characters and environments created in the renowned Square style. Kingdom Hearts follows the story of Sora, a 14-year-old boy whose world is shattered when a violent storm separates him from his two closest friends, Riku and Kairi. Sora, while searching for his friends in a strange and mysterious land, meets Court Wizard Donald and Captain Goofy, protectors of the Disney Castle, who are on a mission to find King Mickey. The three learn of ominous creatures known as the Heartless, beings without hearts derived from an unknown dimension and, as it turns out, the ones responsible for the devastating storm.. Upon discovering the link between the Heartless, the storm and the disappearance of the King, Sora, Donald and Goofy join forces to recover Sora?s friends, return the King to his rightful position and save the universe from the Heartless.
Links:
PS2-Kingdom.Hearts_DVD-PALSpanish.[elitemusic.blogia.com].rar