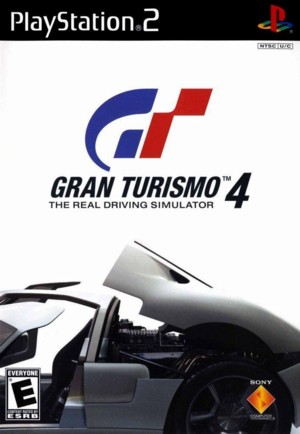 Titulo: Gran Turismo 4
Plataforma: PS2
Genero: Action
Automotive racing is much more than a sport, it's a lifestyle. This winter, this lifestyle comes to PlayStation®2 as the greatest automotive racing simulation returns in Gran Turismo™4. As the fourth installment of the worldwide blockbuster-selling Gran Turismo series, Gran Turismo 4 is available exclusively for the PlayStation 2 computer entertainment system. Fully harnessing the power of PlayStation 2, the creative and talented minds of Polyphony Digital, Inc. have once again succeeded in developing the most technologically advanced racing experience ever.
Following in the footsteps of the PlayStation 2 "Greatest Hit," Gran Turismo 3 A-spec, Gran Turismo 4 features similarly, authentic racing gameplay with new fully-enhanced features that focus on more cars, courses, race modes and online gameplay via the Network Adaptor (Ethernet/modem) (for PlayStation 2). With an all-new physics engine and an all-new AI engine, combined with revolutionary technology, Gran Turismo 4 delivers enhanced, if not perfected, game physics, graphics, and feel, acting as a near-realistic automotive driving simulator.
In Gran Turismo 4, the characteristics of the cars are realistically designed and calculated so that they handle to the "real life" physics of that particular vehicle, taking into account weight, speed, friction, wind and more. Courses include existing sites such as New York City, the Grand Canyon, Tsukuba racing circuit and more. Highly detailed vehicles and environment mapping create broadcast-quality graphics, with light and competitor car reflections on the player's automobile to leaves on a tree shaking in the wind. The online mode establishes a unique community for players to race, interact and chat about automotive news.
Links:
PS2-Gran.Turismo.4.PAL.DVD5.Multi5.[elitemusic.blogia.com].rar