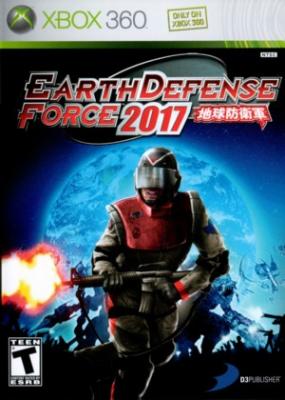 Titulo: Earth Defense Force 2017
Plataforma: XBOX 360
Genero: Accion
The Earth Defense Force needs you! Planet Earth is under attack from alien invaders and the EDF is the only chance for survival. Earth Defense Force 2017 lands players on the front lines of an onslaught of alien invaders, with non-stop swarms of hundreds of enemies on screen at once. The arcade-style third-person shooter equips players with an arsenal of weapons, vehicles and loyal teammates in order to defeat a wide variety of attackers ranging from giant ants and spiders to robots and monsters standing more than 20 stories tall. Players have more than 150 weapon variations to choose from including assault rifles, rocket launches and flamethrowers and the support of AI-controlled Earth Defense Force teammates who will battle beside them throughout the game—players can also join forces in co-op mode and battle together. With more than 50 missions to complete and a seemingly endless barrage of attackers, the Earth Defense Force has their work cut out for them. Fighting within a wholly destructible environment where bridges, skyscrapers and other structures can just as easily be destroyed by friend or foe, players can either save their world or demolish it in the process.
Links:
XBOX.360-Earth.Defense.Force.2017.USA.XBOX360-DAGGER.[elitemusic.blogia.com].rar